Dating and Matchmaking with Russian and Ukrainian Women
What to Do and How to Proceed – A Good Understanding and Planning
Before begin dating and matchmaking with single Russian or Ukrainian women, it is important to understand that in certain ways, international dating have its particularities, especially if the women lives in Belarus, Russia or Ukraine.
Although there are important differences in term of character and culture that we elaborate on in other pages of our site and in our blog, we'll focus more on the legal aspects, logistics, dating and matchmaking process in this article.
Depending from country is the lady living and from which country you are living in, the legal aspect of visa requirement and immigration laws differs. Thus, it is important to inquire about this with your government's immigration department representatives. For example; does a lady from such country needs a visa to visit you in your country and if she does, what are the chances she may get one. This alone can avoid deception and frustration in the future.
Once you are getting familiar with the visa and immigration requirements etc., you need to pay attention to the geography. Of course, Russia is a very big country, the largest on the planet. However, let's not forget that Ukraine is the second biggest country in Europe. So, unless you have the time and financial means to travel a lot, you need to study the geography of these countries and concentrate on selected areas.
My name is Olga. I'm 36 years old.
I am divorced and live in Kiev, Ukraine.


I am Anna from Grodno, Belarus.
I'm 44 years old, divorced and seeking a partner.


Are you looking for a beautiful 37 years old girl from Zaporozhye? It is me!
My name is Zoya and I'm looking for my second half.

The Next Steps are the Selection of Women
who Match your Criteria and Vice-Versa and
How to Introduce yourself and to Develop a Relationship – What to Focus On
There are many factors to pay attention to when selecting women who could be a "perfect match" and many of them are quite personal. However, we suggest paying attention to the age factor and the children. By age factor, we simply mean that it is wise to select women who are in the age range that you seek and vice-versa. Simple enough you may think but the fact is that many men tend to overrule this aspect being attracted by beautiful younger women.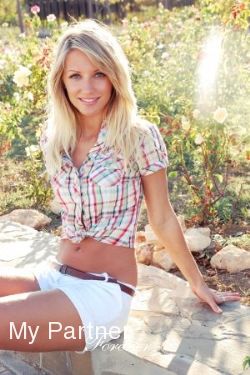 The children aspect is by far the most important one. It comprises :
Do you wish to begin a relationship with a woman who has children?
If so, how many and what age is within what you can deal with?
The same for the woman: do you have children and what is she looking for?
The desire or lack of desire to have common children?
If she has a child, would he or she be moving to your house with the mother?
And if so, does the mother need to have permission from the father?
Once you have established which areas you would like to travel to meet your future bride and that you have questioned yourself about the age and children aspects, you are getting ready to make a selection. Of course and as mentioned, there are many other factors such as height, profession, hair color etc. that are personal and that have more or less importance depending on each individual.
While in the first steps of corresponding, we recommend that you put emphasis on these factors :
Geography: what does the woman knows and thinks about your country – her maybe future home country?
Age gap: yes a bigger age gap is usually more acceptable for Russian and Ukrainian women but what is acceptable for you?
Children: even if the lady seems like your "perfect match" for all other criteria, if the children criteria don't match, we suggest that you move on and find a woman who has similar views on this important factor.
Now that you are ready to select single Russian or Ukrainian women and begin corresponding with the one who may become your charming and loving bride, we will let you work on that and we sincerely wish that you will find your wife on our dating and matchmaking site.