Tired of Local Dating? – Go Online and Meet Ukrainian Women
Contact Single Ladies from Ukraine and Find your Beautiful Bride
You are tired of the local dating scene? Why not go online and get in touch with single Ukrainian women who are looking for men. Our dating service features thousands of single ladies from Ukraine who are expanding their search of a man to share a long term relationship. Because of a lack of available men in their own country, especially the lack of available men wanting to engage in a serious relationship, many single Ukrainian women don't have success with the local dating scene as well. As you are doing, they broaden their search of a life partner to other countries.
It is a fact that international dating is gaining in popularity and creating more and more couples each year. It`s also widely known that Ukraine is home to some of the most exotic and beautiful women in the world. But Ukrainian women aren`t just pretty on the outside! They are gorgeous on the inside, too -- and they know how to make their husbands happy!
Once you`ve contacted single Ukrainian women, developed a relationship and both feel that the time has come to meet in person, our experienced marriage agency staff will assist you and offer you the services required so you can meet your beautiful Ukrainian bride in her hometown!
Discover Why Ukrainian Women have the Reputation
To Become Beautiful Brides and Excellent Wives
It is not a secret: Ukrainian women have the reputation to become beautiful brides and excellent wives. The reason: they offer their husbands the best of both worlds - exotic beauty and traditional family values.
From their childhood, Ukrainian girls are taught by their mothers how to become a beautiful woman and how to become a good wife. They are taught how to be feminine and elegant, and how to be a good housewife who always puts her husband and family first.
Our Online Dating Site and Matchmaking Service Work With
Honest Marriage Agencies - Each Ukrainian Woman is Verified
Our international dating website and matchmaking service work with trusted and reliable marriage agencies in Belarus, Latvia, Moldova, Russia and the Ukraine. The owner and staff of our partner agencies verify the identity of each Ukrainian woman and interview her to evaluate that she is serious and sincere at finding a life partner.
With the help of our team of experienced matchmakers, we are in an excellent position to provide our clients a true opportunity to meet single Ukrainian women who are interested in marriage and eager to meet a man like you - and one of them could someday be your charming Ukrainian bride!
Avoid Ukraine Dating Scams and Marriage Agency Scammers
Work with our Quality Dating Service and Find your Charming Wife
It is a must for any man who is seeking a wife in Ukraine to take all necessary steps to avoid Ukrainian dating scams and marriage agency scammers. When working with our quality dating service, you can be assured that you can concentrate on your goal to find a wife and not be scammed by one of these scam artists. Our qualified marriage agency owner and staff verify the identity of each Ukrainian woman with passport in hands and be assured that they know how to spot the bad apples.
Most dating scammers will simply avoid registering with our marriage agencies. They know our rules and simply decide to perform their scams elsewhere where they can create their profile without having to meet anyone in person.
When doing local dating, of course, it is not necessary for the site owners to make sure each woman was met in person since, most of the time, the man can go meet the lady by driving a couple of hours or so. If she does not show up or look completely different than on her profile and it is not for the better, no big deal, it only took a few hours. When looking for a life partner on the international scene, you should not take this risk, given that there is much more time and money involved in traveling, most likely by airplane, and taxis, hotels etc.
To find out more about how to avoid dating scammers and marriage agency scams, read our Anti-Scam Policy and learn more about what to do and what not to do in order to avoid being scammed.
Single Ukrainian Ladies Dream to become Beautiful Brides
Each Year, Men from Many Countries Find Their Wife in Ukraine
Single Ukrainian ladies dream to become beautiful brides and loving wives. Each year, thousands of men from all over the world find their wife in Ukraine. If you are serious about exploring a long-term relationship with one of these beautiful Ukrainian ladies, we are here to help you find your Ukraine bride!
Our names are Alain and Yuliya, and we take great pride in helping men like you meet Ukraine Ladies who are looking for a happy marriage with a good-hearted man and become her beautiful Ukraine woman.
In the 100s of profiles you will find on our site, you will discover many Ukrainian women who are looking for a happy marriage with the man of their dreams. These Ukrainian women are well educated and will make caring mothers and excellent wives for the men who are lucky enough to become their husbands.
Could you be the Prince Charming these wonderful women are waiting for?
I am Elena from Kiev, Ukraine.
I'm 41 years old, single and seeking a partner.


Are you looking for a beautiful 51 years old girl from Kiev? It is me!
My name is Tatiyana and I'm looking for my second half.


My name is Marina. I'm 43 years old.
I am divorced and live in Kharkov, Ukraine.

Ukrainian Girls Like to be Feminine and Elegant
They are among the Most Beautiful Girls in the World
When traveling to Ukraine and seeing so many attractive girls, not to say stunning girls, we have to agree that Ukrainian girls are among the most attractive and charming girls in the world. How can it be? How can such a majority of these girls be so attractive, fit, slender …absolutely gorgeous?
They compete against fewer men, they eat healthy and live an active way of life. Check the pictures and videos of these beautiful Ukrainian girls and read their profiles; you will want to travel to the Ukraine!
Single Ukrainian Women are NOT Mail Order Brides
They are Simply Single Ladies Seeking a Good Husband
Single Ukrainian ladies don`t like to be tagged as mail order brides. They are simply single ladies who are seeking a good and decent man for husband. Each year, thousands of men are lucky enough to make a beautiful Ukrainian woman their loving wife.
Ukrainian women are intelligent, generally well educated, family oriented and ...beautiful! Does it sounds too good to be true? Forget the mail order brides concept; these beautiful ladies simply want to be a good wife to a worthy man. It is that simple.
Amazingly, some men still refer to Ukrainian women seeking a husband abroad as mail order brides. Probably it is simply by habit. Of course, these single Ukrainian ladies seek to become brides and many men from countries of the west made one of them their charming bride.
Ukrainian women are hard workers and quick learners. Given the chance, they will demonstrate their skills. However, and this point is very important, they will keep the family values above financial and career issues.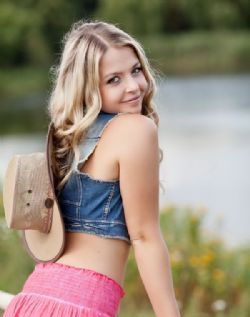 Online Dating Service to Meet Single Ukrainian Women Looking for Men
Get in Contact with Girls from Ukraine and Find your Charming Wife
Our online dating site features single Ukrainian women who are looking for men to develop serious relationships based on love, respect and sharing the joys of family life. As many men from different countries did, they tried local dating without success – unable to meet someone who shares their view of the couple and family.
They register with their local marriage agency and display their profile on international dating sites in the hope to find the man they've been looking for. Here is a true opportunity for men from any region to find a charming wife who wishes to create a strong couple and happy family. Why hesitate? Get in contact with a single Ukrainian woman and you may be on the way to share your life with a wonderful bride from Ukraine!