Online Dating Service to Meet Single Ukrainian Girls Get in Contact with Girls from Ukraine and Find your Charming Wife
Our quality online dating service is tailored to help men to get in touch with single Ukrainian girls who are looking for a man to create a long term relationship and a happy family. With the help of our trusted and dependable marriage agencies, we offer our clients the true opportunity to find a bride in Kiev, Odessa, Kherson, Nikolaev, Poltava, Kharkov and most cities of Ukraine.
If you are wondering why these girls go through their local marriage agency instead of simply creating their profile on a dating site like you do, there are many reasons explaining so. First, not everybody can afford a computer and internet at home in Ukraine and that is even truer, especially for a single woman who has only one income to pay the bills. Secondly, not all women are comfortable to display their profile directly on the web as it can be unsafe. They trust that their agency will filter out the potentially bad guys. Also, let's not forget the language barrier – even though a woman from Ukraine may be familiar with English, she is most likely not fluent and you may not be either or have a strong accent – all leading to misunderstanding, misinterpretation etc. that are not very good when trying to get to know each other.
Ukrainian girls face a very strong competition when comes the time to find a good husband - the main reason being that there often is the lack of available men in their area. That certainly contributes to the fact that they need to always look their best to increase the chances of catching the attention of local men. But for many of them, the prospect of remaining single is obvious as there more women than men.
Why do so Many Beautiful Girls from Ukraine
Seek a Husband Outside Their own Country?
Why are so many beautiful girls from Ukraine seeking a husband outside their own country is a very good question. The main reason is that there is a lack of available men in Ukraine as a whole and in some cities, the ratio of available women versus available men is 3:1 and even 5:1. It is easy to imagine that many single girls in Ukraine have great difficulty to find a man who wishes to engage in a serious relationship.
In order to get the attention of the few serious single men available, girls from Ukraine have to always look their best. They keep a healthy and active lifestyle and this explains why so many are so attractive, not to say stunningly beautiful. However, their beauty goes beyond the outside shell - they are family oriented and always keep their husband and family on top of priorities. Isn`t what many men from different countries have great difficulty to find in their own country?

- Don`t you wish you could share your life with such a charming girl?
I am Darya from Zaporozhye, Ukraine.
I'm 34 years old, divorced and seeking a partner.


Are you looking for a beautiful 48 years old girl from Kiev? It is me!
My name is Nataliya and I'm looking for my second half.


My name is Elena. I'm 35 years old.
I am divorced and live in Vinnitsa, Ukraine.

Our International Dating and Matchmaking Service
Works with Honest and Reliable Marriage Agencies
in Kiev, Odessa, Kharkov, Nikolaev and most Cities of Ukraine
Our international dating site and matchmaking service has partnered with honest and reliable marriage agencies in Kiev, Odessa, Kharkov, Poltava, Nikolaev, Kherson and most cities of the Ukraine. Thus, we are in an excellent position to help men at finding a Ukrainian bride. Our services go beyond the correspondence and virtual relationship. We focus on providing our clients all the services required to meet their Ukrainian girl in person.
Our biggest pleasure is to receive the testimonial of a marriage between one of our Ukrainian girls and clients. It makes us feel like we reaching our goal, which is to simply help lonely hearts find each other and make people happy. We take great pride in every international marriage generated by our marriage agency owners and their quality matchmaking service. Our international dating site allows people from all parts of the world to find each other, fall in love and create long lasting relationships leading to marriage. International marriage has a magic aspect and statistics show a higher success rate than local marriage. Ukrainian girls offer the best of both worlds: they are very beautiful looking plus they have strong family values.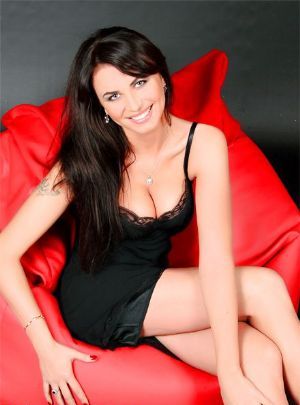 Quality Dating Site to Meet Beautiful Ukraine Girls Online
Honest Marriage Agency Service to Find a Charming Ukrainian Bride
Our quality dating site provides a true opportunity to meet beautiful Ukraine girls online. In cooperation with our trusted agency partners, we have offices in Kiev, Odessa, Poltava, Nikolaev, Kherson, Kharkov and most cities of Ukraine. Use our well established matchmaking service to find your beautiful Ukrainian bride. Single girls from Ukraine become the charming and loving brides of thousands of men from all over the world each year.
Every girl from Ukraine featured on our matchmaking site has registered in person with her local marriage agency. Our honest and experienced agency owner validates her identity with passport and interviews her to verify the seriousness and sincerity of her intentions to find a husband from outside her country. We guarantee that each Ukrainian girl featured on our dating site is real and actively seeking a husband from outside Ukraine.
Russia, the Ukraine and former USSR are home to some of the most beautiful and charming girls in the world. But Russian girls and Ukrainian girls are not just pretty on the outside! They are beautiful on the inside, too -- and they know how to be excellent wives! Your search for a life partner on the local scene does not bring the results you are looking for? You think that one of these single girls from Ukraine could be a good wife for you? Browse our beautiful Ukrainian girls and you could be on the way of finding your charming Ukrainian bride!