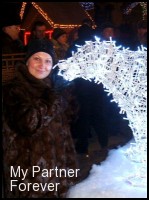 Where is a good place to meet your half!? Be sure My Partner Forever is the real place! Just think about the name of this site ;) It can tell you a lot about its owners!!! Just a wonderful couple – a blond beauty who can be a cover of any fancy magazine and a guy seems to be an alive prince from a fairy tale! If you get a chance to know them closer the thought that they do really serve their happiness will not leave you! We - just a small agency from Odessa, Ukraine, also a couple who also has an idea to help all singles of our town to be happy as we are - got acquainted with Yuliya and Alain by chance – work of course ))) – and it was a really amazing surprise for us! Improbable intelligent people whose aim is to help other single people to find their halves! They found themselves and know how it is hard and at the same time easy! Concerning the work – Alain and Yuliya are very smart, helpful and of course friendly! We work with other sites also but such atmosphere as here and the attitude of Alain and Yuliya we have never met before! They can help you in any time of the day or night – it seems that they are always work but if you get a chance to know them closer you will understand that the still have romantic dinners and dates as any happy couple! They do not show that they are big bosses and communicate with each client (if it is needed) as with their old friend. You feel here on My Partner Forever as at your home – just warm and fuzzy ))) and now we really know that there are no distances and no borders to meet really nice people and we sure if we live in the same city we could be the best friends with Alain and Yuliya! Working with them – you understand that you have to do your best as they trust you and you can't fail them! We sincerely wish You to be a client and a dear friend of Alain and Yuliya and of course to find your happiness here on My Partner Forever!!!
Elena (Odessa, Ukraine)
21/04/2010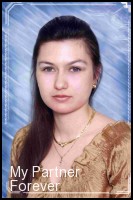 We live in different countries and sometimes people build walls but not bridges. Boundaries, different customs and traditions separate us. But all of us live on one planet and all of us want to be happy. More and more ladies and men look for their second halves abroad. They use marriage agencies and dating sites for it. Who knows everything about this? The answer is clear: only people who have got their own positive experience! These people are Alain and Yuliya. They know what to do and how to do to help other people who are lonely! Yuliya is very helpful! She answers all of my questions and helps me in any time! Sometimes I doubt that she has got a rest! : )))) I would like to wish Alain and Yuliya health and happiness for many years! And I hope that together we will help more people to become happy!
Tatiyana (Nikolaev, Ukraine)
04/03/2010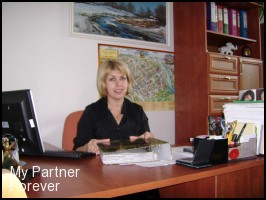 Life gives us many gifts. One of the best gifts of my life is my meeting with Alain and Yuliya. In the big planet of millions of humans is not too often happened when we can see people who are close to us spiritually and intellectually. You noticed how often the same words different people understand differently, the same events bring different associations to the people. And suddenly you realize that there are people who see this world as well as you, who just understand their goals and objectives in life the same way, the same principles, build their relations with people on the basis of kindness, care, compassion and unconvinced people. I can responsibly say that in the thirteen years of providing marriage business this is the first time I have business partners with whom we understand each other from the bottom of the subject, with whom I feel I am on the same wave. I strongly believe that it is a wave of success, because this wave rises from the ocean of human warmth and love for the world and people in this world. Rising wave based on a common understanding of what our work (Marriage Agency) is the only road, going where the people (our customers) can find happiness. We are united by a deep understanding that we are only a tool that God gives people, a tool which they can play a perfect melody of their own destiny. However, this instrument must be configured correctly and professionally, but it is our responsibility and challenge. Our mission is only to help, suggest, to create conditions to enable people to meet and understand each other. We share the same values what about our mission. Mission based on modest understanding that we can and should serve only with clean and open heart, a mission, which in principle doesn't bring big money, but gives us a great moral satisfaction and even happiness. After all, isn't a happiness by itself to help people become happy, become a beloved man and create family!
Maya (Grodno, Belarus)
08/10/2009
You are looking for a life partner and are in the process of selecting the right people to assist you? You wish to cooperate with reliable, honest and highly qualified professionals? You want a level of service and you want concrete results? We work with MyPartnerForever on a regular basis and we can assure you that you will find a team of people you can rely on. Our experience and cooperation lead us to discover very decent and professional managers and staff. Communicating with them is always pleasant. They are kind, patient and flexible. They have an individual approach and respect the privacy of each. Talking to the co-owner Yuliya, you will feel like you're in the hands of an excellent specialist and very respectable person. Her beautiful smile and kindness touch you even trough the Internet and by telephone, leaving a charge of positive energy for the whole day! In our century, when you have been deceived at least once by someone, it becomes very difficult to trust people again. When being deceived by those we trusted, it can become very difficult to regain that feeling of being able to rely on someone. That is why we all try to learn from the words of other people who share their comments about the product or the organization. This is the main reason for our words here today: to share with you the very pleasant experience we have with MyPartnerForever. Hopefully we can convey this feeling of trust we share with their team. You can then save precious time searching for the right people to assist you and invest the time in searching your life partner and soon share happiness! Avoid the "rocky roads" and trust our experience. You will be in good hands with Alain and Yuliya! I wish you all find your second half! Be loved and love always! With our sincere respects to the management and staff of "MyPartnerForever" and to all of you.
Kharkov partners
14/03/2009